Actor Akshay Kumar contributed Rs.25 crores to PM CARES Fund. He tweets on 28 March
" this is that time when all that matters is the lives of our people, and we need to do anything
and everything it takes. I pledge to contribute Rs.25 crores from my saving to
@narendramodiji'sPM-CARES Fund. Let's save lives,jaan hai to jahaan hai."
Akshay Kumar was very supportive about this corona awareness, sending video massages,
lighting the candle, hosting SANGEET SETU on DD National etc.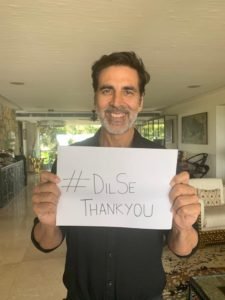 Akshay Kumar is one of the best actor in bollywood , also a great human being. I always
admire his lifestyle, dedication for work ,down to earth nature and his simplicity.He is not a only a reel hero for me he is a real hero…
THANK YOU SO MUCH SIR FOR THINKING ABOUT US.
Tpo 10 Covid-19 Donation: Click Here