Schools & Colleges can Reopening from 15 th October : Unlock 5.0
With 7.2 Million Covid-19 cases & 111 Thousands deaths, The Ministry of Home Affairs of India announced that it's not compulsory for schools & Colleges to open classes on 15 th October. But, As per Unlock 5.0 Guidelines & Rule, The State and Union Territories can take a decision on reopen schools & colleges from 15 th October.
Since then many states have been in a dilemma as to whether to reopen the schools & collages or not. One side the future of students and other side major risk of health due to coronavirus cases.
Due to not a single sign of the pandemic abating, School management – senior officials and
principals echoed similar remarks and asserted that reopening schools are full of risky as
there is major question about health of students. World Health Organization (WHO) also
issued new guidance to help protect children and schools from transmission of the
coronavirus virus.
Here's what different states are deciding about reopening schools & colleges –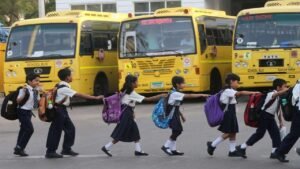 Delhi :-
The national capital government held meeting to discuss unlock guidelines on schools, colleges reopening and later announced not to open schools before October 31.
Deputy Chief Minister Shri Manish Sisodia has already made it very clear that all the schools and colleges of Delhi will remain closed till 31 st October.
Gujarat / Maharashtra / Chhattisgarh :-
The state government of these three state has announced that the schools can be reopening only after Diwali. Till that government of Gujarat / Maharashtra / Chhattisgarh have decided to keep the schools shut. The state ministers of these three state will took any decision about reopening of schools after a gap of 2-3 month as the coronavirus pandemic.
Also read: new-education-system-in-india
Uttar Pradesh :-
The Uttar Pradesh government announced that schools of U.P. can reopen
for class 9 to 12 students from October 19 in the first phase. The school time will be in two
small shifts, to ensure safety of students. Students will only be allowed to attend classes
after written permission from their parents, deputy chief minister Dinesh Sharma said. Also
the state government announced that Classes will be held in shifts and all necessary
protocols including social distancing and proper sanitation of premises will have to be
followed by schools.
Meghalaya :-
According to Education Minister of Meghalaya, the state government has
decided that the upper primary schools will be reopened only to address the study
questions of students of classes 6, 7 and 8. For future the Meghalaya government has asked the parents for their opinion before taking a final decision on the reopening of schools.
Andhra Pradesh :-
For improving the education standard the government of Andhra Pradesh decided to post Joint Director in the every district of A.P. Also after Announcement of Ministry of Home Affairs, Andhra government decided that they will not allow classes toresume till on or before November 2.
West Bengal :-
After Unlock 5.0 Guideline, The Government of Bengal has also decided about reopening of schools & collages will be taken only in November. The schools will remain closed for the time being, the government will take a decision in this regard only in mid-November, chief minister Mamata Banerjee Said.
Punjab :-
On 12 th October, Punjab government decided to reopen schools and coaching
institutions from 15 th October for the students of classes 9 to 12 with consent letter of
parents / guardians only. As per new SOPs of Punjab government for schools and collages
reopening, Schools would be permitting for only 20 Students per section.
Assam :-
High and higher secondary schools in Assam are set to reopen from 15 th October
with social distancing norms and other precautionary measures against coronavirus
pandemic for students between standard 9 and 12. The government will be reviewed
situation Later will decide about other class.
UNICEF is also urging to schools that whether open or helping students through remote /
online learning to provide students with holistic support. Schools should provide children
with vital information on handwashing, wearing mask and other measures to protect
themselves and their families. For example, safe school guidelines implemented in Guinea,
Liberia and Sierra Leone during the outbreak of Ebola virus disease from 2014 to 2016
helped prevent school-based transmissions of the virus.