Draupadi Murmu Our Second Female President Of India :-
She is the 15th and current president of India since 25th July 2022. She is member of Bharatiya Janata Party (BJP). Recently she reach the highest constitutional post in the country. She is the first person belonging to the tribal community and also she is the second woman after Pratibha Patil to hold the presidents office.
Before this many people didn't knew her. But now it's time we know about our presidents personal life, and her journey to the presidential election. She is the true inspiration to all of us. Before entering politics she worked as a clerk in the state irrigation and power department from 1979 to 1983.
Draupadi Murmu was born in 28 June 1958, in Uparbeda village, a small town village in Orissa. Her father was a farmer. Her father and grandfather where Sarpanch of the Gram Panchayat. Murmu started her study at Uparbeda village then she moved to Bhubaneswar for higher studies. She completed her graduation at Ramadevi women's college.
Draupadi married a banker named Shyam Charan Murmu in 1980. She had a lovely family of two sons and a daughter with her husband. Murmu's life was not very easy to live. Draupadi lost her first child in 1984 when she was just 3 years old. She lost her 25 year old son Laxman in a road accident.
After the death of her elder son, murmu went into depression for 6 months. On the strength of her own courage she came out of her depression. She joined and organisation called Brahma Kumari and heal herself spiritually. She followed strict routine, with yoga and meditation and continue to grow through hard work and skill.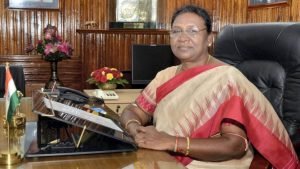 Not only this she lost her younger son Chipun in the year 2013 then her husband Shyam Charan left the world in October 2014. In 4 years she had to bear the shock of the death of two sons and her husband. But she didn't lose hope.
Draupadi  continue to fight. And today she reach the highest position in our country. President of India Draupadi murmu. During writing this article we did deep research about Mrs. Murmu and we are very proud and inspired with her.
It is very easy to give up everything and blame on others, but the real battle is to fight with our weakness and carry on with our lives.
Also Read : Urfi Javed's Bold Choices In Fashion Will Shock You