Importance of exercise :
People of all ages can improve health and fitness by including moderate amounts of physical activity in their daily lives. The health benefits of regular exercise and physical activity are hard to ignore. The benefits of exercise are so numerous. It would take a much longer article than this to go through all of them.
Importance of exercise: Want to feel better, have more energy and even add years to your life? Just exercise.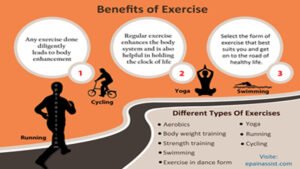 Exercising causes the body to make chemicals that can help a person feel good. Exercise can help people sleep better. It can also help some people who have mild depression and low self-esteem.

Don't attempt to go from "couch potato" to world-class athlete in one weekend. Start with a modest amount of exercise most days and build up to the recommended levels.
One of the biggest reasons that doctors will recommend exercise is because it aids in weight loss. Other than that it reduces risk of diseases, particularly heart disease, is perhaps the biggest benefit of exercise.

Exercise isn't just beneficial for the body. Having a consistent fitness routine also aids your mind and emotions. It has even been shown that exercise can help reduce symptoms of mental disorders.
Exercise Improves Your Self-Esteem This benefit goes hand-in-hand with emotional health. Exercise is a surefire way to improve your confidence and self-image.

Exercise improves brain function Exercise increases blood flow and oxygen levels in the brain. It also encourages the release of the brain chemicals (hormones) that are responsible for the production of cells in the hippocampus, the part of the brain that controls memory and learning.  This, in turn, boosts concentration levels and cognitive ability, and helps reduce the risk of cognitive degenerative diseases such as Alzheimer's.
Exercise and physical activity can be enjoyable. They give you a chance to unwind, enjoy the outdoors or simply engage in activities that make you happy. Physical activity can also help you connect with family or friends in a fun social setting.
So take a dance class, hit the hiking trails or join a soccer team. Find a physical activity you enjoy, and just do it. Bored? Try something new, or do something with friends or family.
Considering the benefits to the heart, muscles, joints, and mind, it's easy to see why exercise is wise. And the great thing about exercise is that it's never too late to start. Even small things can count as exercise when you're starting out — like taking a short bike ride, walking the dog, or raking leaves.