Saree has always been fascinating for me. I remember being a little girl, getting easily attracted toward the big piece of colourful cloth with no cuts and stich to stick it on my body. The desire of draping me with a saree was immense, hence reaching my grandmothers saree stand within a very young age of 6 didn't remain a difficult task for me. Climbing up the table, standing on my hind legs, there I was.
Well, before writing this article, I have been researching a bit to understand the view point of especially Indians regarding the very ancient and very Indian wear – saree. I must say I have found beautiful write ups across.
A special mention, that fascinates me, as equally as my fascination towards wearing a saree – is an article by Medium.com , the mention of Draupaudi to introduce the most ethnic wear melts my heart.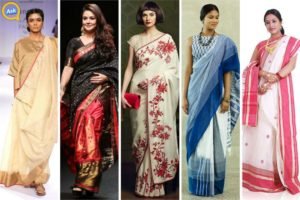 Saree has been a part of Indian culture since last 5000 years (as our culture mentions). The Vedas records its existence since Indus Valley civilization. The motive to wear an unstitched piece of cloth, as per Hindu belief is that stitching makes a cloth piece impure. Though being a long piece of cloth it is easy to handle and store, as it can be folder short. Miraculously, the long 'anchal' (the open end that hangs flowing from the shoulder) is multipurpose. As per the fabric, a saree can keep you warm in the winters and cool during the summers.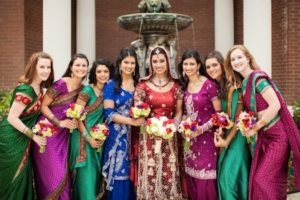 With different cultures taking over India and imposition of their culture on us, likely has brought a change towards the wear of the populace. However, extinction is not the case with Saree. It has, rather, becoming a global sensation, where even foreign culture fancies the wear and tries adopting it with all smiles.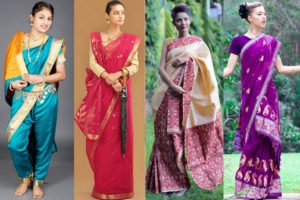 Saree is a long piece of cloth of a minimum 5 meter length till a maximum of 9 meters. Being a draping material, one can wear it in different styles and in different forms. The type of wear is too distinct across the Indian states. Some wear it with a knot and multiple drapes and folds, whereas at some places it easy going with simple drapes with hardly any folds. It comes in different colours and embroidery. It has been and still a canvas for the weavers and designers.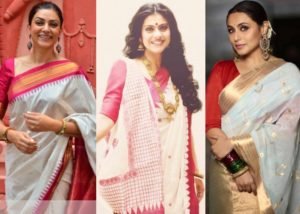 The sarees has been named by the different cultures in our country and even the drapes are named as per their draping style. We find the most common types of sarees namely, Assam silk (Northeastern India), Tant (West India), Banarsee (North India), Bandhej (North India) Kanjivaram, (South India).
A few draping styles as named, Mekhela chadar (Northeastern India), Aatpohuri shari (West Indian style), Ulta pallu/Sidha pallu (North Indian), Madisaru (South Indian culture).
India is a country of colour, vibrance and variety in food, culture and language, yet everything and everyone remains as one – which makes it incredible and one of its kind.
Sabe pyara desh humara – mera Hindustan.