75 rupees coin released by PM to mark 75th anniversary of FAO of UN.
Prime Minister Shree Narendra Modi on October 16 released a commemorative coin of Rs.75 denomination to mark the 75thanniversary of the Food and Agriculture Organization [FAO] of the United Nations.The coin will stand as an ode to the long-standing relations between India and the global body UN.
Women and child development minister Smriti Irani, Member of the Lok Sabha Debasree Chaudhuri, FAO Indian Representative Tomio Shichiri, Union agriculture minister Narendra Singh Tomar were present during the occasion.
Read here the major point about the Prime Minister's addressvia a web telecast,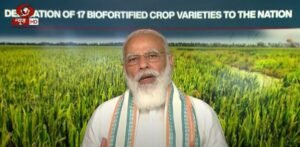 One Nation One Ration Card system has been implemented in 28 states and union territories of the country to ensure food security.
Recently there have been 3 major agricultural reforms that is a very important step in improving the agricultural sector of the country and increasing the income of farmers.
Culture is a very important step in improving the area and increasing the income of farmers.Over the years, there has been considerable work in research and development of advanced seeds in the country. Before 2014, where only one such variety reached the farmers. Today, 70 bio fortified varieties of different crops are available to farmers.

When the farmer of India becomes strong, his income will increase, the campaign against malnutrition will get equal strength. I am sure that the growing synergy between India and FAO should give further impetus to this campaign.

Do you know that while the whole world is struggling due to Coronavirus, the farmers of India broke the record of last year's production this time too? Do you know that the government has broken its old records of procurement of all types of food grains like wheat, paddy and pulses?
 75 rupees coin released by PM to mark 75th anniversary of FAO of UN.
I express my special thanks to the FAO today for fully supporting India's proposal. To declare the year 2023 as the International Year of Millets. Another important work is being done to tackle malnutrition. Now such crops are being promoted in the country in which nutritious substances like protein, iron, zinc etc. are high.
We started working on a multi-dimensional strategy. The FAO has watched India's fight against malnutrition very closely over the past decades. Attempts were made by some departments at different levels in the country. But their scope was either limited or scattered in pieces.

Due to many reasons like pregnancy, lack of education, lack of information, lack of clean water, lack of sanitation. we could not get the expected results that we should have got in the fight of malnutrition.

The special coin of 75 rupees that has been issued today. It is an honor for your service towards the 130 crore people of India.
The FAO's World Food Program receiving this year's Nobel Peace Prize. It is also a major achievement. India is happy that our partnership and our engagement in this too have been historic.
Due to all these efforts, India is fighting a strong. Fight against malnutrition even in this crisis of Corona.
Our farmer partners of India – our Annadata, our agricultural scientists, our Anganwadi-Asha workers, are the basis of the movement against malnutrition.
While they have filled the granary of India with their hard work. They are also helping the government in reaching far and wide, poorest of the poor.
Best wishes to all of you on World Food Day. I also congratulate those worldwide who are working continuously to eradicate malnutrition.