Comedy Queen Bharti Singh Arrested :
Comedy Queen to Controversy Queen:
COMEDIAN QUEEN of Indian entertainment industry and her husband were arrested by the Narcotics Control Bureau (NCB) after Ganja allegedly seized from the house. The NCB found a bag containing 65 grams of ganja from the production house and 21.5 gram of ganja from Oberoi Springs in Andheri (residence of comedian queen and her husband).
Comedian queen Bharti Singh was arrested on 21st of Nov-2020, while Next day her husband was taken into custody after 15 hours of questioning by anti-drugs agency NCB. During interrogation by NCB officials, comedian queen and her husband had confessed of consuming the ganja. The court had on Sunday directed that they be sent to judicial custody till December 4 and adjourned their bail plea to Monday. Later, their lawyers Zehra Charania & Ayaz Khan argued that the recovery of Ganja was lesser than the small quantity as prescribed under the Narcotic Drugs and Psychotropic Substances (NDPS) Act making it a bailable offence. The court accepted the argument and granted their bail on a personal bond of Rs. 15,000 each. The comedian queen who collided so violently with this ill fate is none other than BHARTI SINGH.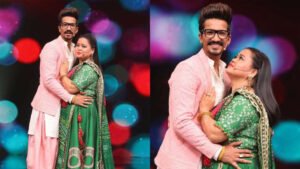 Now, people are trolling Bharti and her husband Harsh Limbachiyaa for urged fans to stay away from drug via old tweet. In a July 2015 tweet, Bharti Singh had tweeted, "People stop taking drugs it is harmful to your health #saynotodrugs."
Also Shekhar Suman and veteran comedian Johnny Lever have reacted to the arrestment of Bharti. Speaking in Interview, Johnny lever said: "Drugs is becoming a trend like alcohol used to be back in the day.
But consumption of drugs by this generation of creative people is crossing limits. And if you get caught indulging in it imagine what will your family go through and those who are watching your story on news channels and are consuming even lethal drugs must be going through.
Bharti Singh is the first standup Lady comedian in the male-dominated world of standup comedianswith lot of hard work and perseverance.
Bharti Singh is one of the stars who has featured on popular shows with Kapil Sharma.
Apart from a bunch of other comedy-based shows aside from hosting several other reality TV show.
In 2016, Forbes released the list of Top 100 Comedians, in which Bharti wason the 98th rank. Bharti Singh born on 3rd of July, 1984 at Amritsar Punjab. Bharti Singh's father is of Nepali descent, while her mother is a Punjabi Hindu.
Bharti's father died when she was just two years old. Bharti belonged to a poor family. Bharti said in an interview that she was buried in the furnace of poverty.
She had done a lot of work in her life but she is always grateful to her mother. She always keeps her mother in her memories.
To fulfill the bread & butter of her kid Bharti's mother used to go to others' homes to cook food. Often Bharti also went with her mother.
When she used to go to people's homes and look at the food items kept in their kitchens and fridges. She would think when all this would happen in their house.
Bharati said in an interview that she wanted to join the army at first. But because of heavy weight she could not join the army.
Later Bharati won a gold medal in pistol shooting and archery during her college days. And she had to give up her hobby due to lack of money and family situation.
And in 2011, she appeared in Jubilee Comedy Circus, Comedy Circus Ke Taansen and Comedy Circus Ka Naya Daur on Sony Entertainment Television.
Bharti Singh had to overcome many challenges and obstacles before achieving the success. Later On 3 December 2017, Bharti married writer Haarsh Limbachiya.
This incident open eyes of those celebrities or people who are addicted by drugs / ganja. Drugs / ganja have a different status among the most dependent items used today.
Every time you use drugs / ganja, you are killing yourself. Likewise drugs lead you to a significant amount of distraction and loneliness. So Stay away from drugs, stay close to life.