The Golden Kid – Diego Maradona :
Diego Maradona, a 60-year-old football player, died of a heart attack on November 25, 2020.
Maradonabattled health issues several weeks ago and underwent emergency surgery for a suburban hematoma.
On Wednesday at his home He suffered a heart attack. And later his lawyer confirmed about death of Diego Maradona.
He died 15 years to the day after talented football folk hero George Best and 4 years to the day after, former Cuban leader Fidel Castro.
Diego Maradona widely regarded as one of the greatest football players of all time. Diego was capable of things no one else could match.
Maradona was a uniquely talented sportsman and charismatic idol.
Maradona was a technical leader just like a guy who resolved all difficulties that may come up on the pitch.
He was one of the two joint winners of the FIFA Player of the 20th Century award.
Maradona was given the nickname "El Pibe de Oro" (The Golden Kid), a name that stuck with him throughout his career.
An advanced player who operates in the classic No. 10 position.
Maradona was the first player in football history to set a two-time world record transfer fee: first when he moved to Barcelona for a then world record £ 5 million.
And second When he moved Napoleon for another record fee of £ 6.9 million.
In his international career with Argentina, he earned 91 caps and scored 34 goals.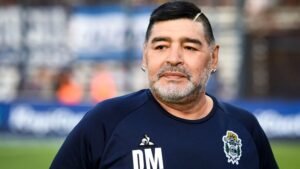 Diego Maradona born on 30 October 1960. He was the first son after four daughters. He has two younger brothers.
Maradona grew up in Villa Fiorito, a shantytown just south of capital Buenos Aries. His father, affectionately known as Don Diego, was a factory worker.
His mother, Dona Tota, was a homemaker. Maradona married Villafane on 7 November 1984 in Buenos Aires, and they had two daughters, DalmaNerea (born 2 April 1987) and Gianinna Dinorah (born 16 May 1989), by whom he became a grandfather in 2009.
From the mid-1980s until 2004, Maradona was addicted to cocaine. He allegedly began using the drug in Barcelona in 1983.
By the time he was playing for Napoli, he had a full-blown addiction, which interfered with his ability to play football.
In the midst of his drug crisis in 1991, Maradona was asked by journalists if the hit song MiEnfermedad (lit. My Disease) was dedicated to him.
Maradona had a tendency to put on weight and suffered increasingly from obesity, at one point weighing 280 lb (130 kg).
Diago was obese from the end of his playing career until undergoing gastric bypass surgery in a clinic in Cartagena de Indias, Colombia.
His surgeon said that Maradona would follow a liquid diet for three months in order to return to his normal weight.
When Maradona resumed public appearances shortly thereafter, he displayed a notably thinner figure.
So let's take a look some best quotes by Diego Maradona.
In the end, it is about whatever god wants us to be in final, but I know that is what God wants. This time we will not need the hand of god, because it is the will of God.
I certainly have an advantage over some because I can pass on so much from the World Cups I played in.