The Mukesh Ambani (Chairman & Managing Director – Reliance Group)
Mukesh Dhirubhai Ambani was born on 19th April 1957 in the British Crown colony of Aden. His parents are Dhirubhai Ambani and Kokilaben Ambani. He has a younger brother Anil Ambani and two sisters, Nina Bhadrashyam Kothari and Dipti Dattaraj Salgaocar.
Ambani family lived only few time in Yemen because Dhirubhai Ambani decided to move back to India in 1958 to start a trading business that focused on spices and textiles named VIMAL. His family lived in a modest two-bedroom apartment in Bhuleshwar, Mumbai until the 1970. Ambani attended the Hill Grange High School at Peddar Road, Mumbai.
After his secondary schooling, he studied at the St. Xavier's College, Mumbai. He then received a BE degree in Chemical Engineering from the Institute of Chemical Technology. Mukesh Ambani later enrolled for an MBA at Stanford University but withdrew in 1980 to help his father build Reliance, which at the time was still a small but fast-growing enterprise.
In 1981, Mukesh Ambani started to help his father Dhirubhai Ambani run their family business, Reliance Industries Limited. After joining the company, he reported daily to Rasikbhai Meswani, then executive director. The company was being built from scratch with the principle of everybody contributing to the business and not heavily depend on selected individuals.
Dhirubhai treated him as a business partner allowing him the freedom to contribute even with little experience. This principle came into play after Rasikbhai's death in 1985 along with Dhirubhai suffering a stroke in 1985 when all the responsibility shifted to Ambani and his brother.
In March 1985,richest business tycoons of India, Mukesh Ambani married to Nita Ambani and they have two sons, Anant and Akash, and a daughter, Isha. Mukesh Ambani set up Reliance Infocomm Limited which was focused on information and communications technology initiatives.
At the age of 24, Ambani was given charge of the construction of Patalganga petrochemical plant when the company was heavily investing in oil refinery and petrochemicals. On 6 July 2002, Mukesh's father died after suffering a second stroke, which elevated tensions between the brothers as Dhirubhai had not left a will for the distribution of the empire in 2004.
Their mother intervened to stop the feud, splitting the company into two, Ambani receiving control of Reliance Industries Limited and Indian Petrochemicals Corporation Limited, which was later approved by the Bombay High Court in December 2005.
By this time, it had already expanded so that it also dealt in refining and petrochemicals. The business also included products and services in retail and telecommunications industries. Reliance Retail Ltd., another subsidiary, is also the largest retailer in India.
Reliance's Jio has earned a top-five spot in the country's telecommunication services since its public launch on 5 September 2016.
During the announcement of Reliance Jio initiative, Ambani had clearly said, "Today I see a billion people as a billion potential consumers, an opportunity to generate value for them and to make a return for myself". He doesn't mince words when he says he means business.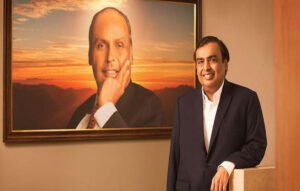 With start-ups mushrooming in the country, Ambani has now turned his eye at it and will soon be seen mentoring technology start-ups that spawn billion-dollar businesses in the country.
As of 2016, Ambani was ranked 38 and has consistently held the title of India's richest person on Forbes magazine's list for the past ten years. Mukesh Ambani is the only Indian businessman on Forbes' list of the world's most powerful people.
As of October 2020,
was ranked by Forbes as the 6th wealthiest person in the world. He surpassed Jack Ma, executive chairman of Alibaba Group, to become Asia's richest person with a net worth of $44.3 billion in July 2018.
He is also the wealthiest person in the world outside North America and Europe. As of 2015, Ambani ranked fifth among India's philanthropists, according to China's Hurun Research Institute. He was appointed as a Director of Bank of America and became the first non-American to be on its board.
Through Reliance, he also owns the Indian Premier League franchise Mumbai Indians and is the founder of Indian Super League, a football league in India. In 2012, Forbes named him one of the richest sports owners in the world. He resides at the Antilia Building, one of the world's most expensive private residences with its value reaching $1 billion.
Mr. Mukesh Ambani is a member of The Foundation Board of the World Economic Forum. Ambani is an elected Foreign Member of the prestigious United States National Academy of Engineering. He is a member of the Global Advisory Council of Bank of America. Mukesh Ambani is also a member of International Advisory Council of The Brookings Institution.
Mr. Ambani is also a member of the following forums:
Stanford Global Advisory Council
McKinsey & Company International Advisory Council
The Business Council
Chairman of the Board of Governors, PanditDeendayal Petroleum University in Gujarat
India Advisory Group of the London School of Economics
India Advisory Council of The British Asian Trust (as Chairman)
Indo-U.S. CEOs' Forum
Board of Governors of the National Council of Applied Economic Research, India
Recently Mr AmbaniAwaredIconic Business Leader of the Decade Award, CNBC-TV18 India Business Leaders Awards. Jiomart is a latest venture by Mr. Ambani. Which is dealing over 200 cities in India serving groceries and daily essentials through nearby stores.
Within few span of day jiomart application has seen more than 1 million downloads. Although, reliance have various elegant and lavish shopping malls across the globe, which is a dream of Mr. Mukesh Ambani.On December 2020, Mr. MukeshAmbani became a grandfather as his elder daughter in law has given birth to a baby boy.
Lessons from Mukesh Ambani's Life In Short Letters:-
Aim high
Anything is possible
Success has no limits
Don't panic, stay strong
Do more, talk less
Be hawk-eyed