Alliance in rise of empires is like a team which have 100 players capacity. An alliance have it own technology that helps every member of the team. Member of an alliance divided in 5 category (R1, R2, R3, R4 & R5) they have different types of power to manage the team.
When you enter an alliance you will get different options below:-
War
It will give you the information about any ongoing attack, Giant rally, rally against player/ building & past battle records.
Buildings
It has option to donate stone during ROC, EDEN etc season. Alliance leader / R4 can buy dragon shout for season wars which can be used by alliance Guardian only. It has 4 alliance center buildings for different season.
Help
Every player can ask alliance help for upgrade buildings and technology research. Number of help and reduction time depends on player alliance hall level.
Salary
There is 3 different type of salary:-
* Active: It depend on how much active you are you will have different goals to collect this rewards. If you can manage to get 500 points then you will get all  8 boxes daily.
*Attendance: it depends on how much your alliance is active. if 50 members come online daily then you will get all 3 boxes.
*Contribution: you can earn alliance contribution by donating to alliance technology. by making 3000 alliance contribution point you will get 2 boxes.
Technology
Alliance technology increase all alliance members some buff. But for upgrading technology all members need to donate regularly. alliance technology having 2 section Develop & combat. In my suggestion if you are in main alliance you need to donate in Combat to increase combat buff for alliance member. If you are in farm alliance so you need to focus on Develop.
Gifts
Every alliance have some gift level higher the level better the rewards. 2 types of gift you will get Normal & Rare. Normal gifts are from killing giants by alliance members. Rare gift you will get when someone purchase something from game.
Store
Here you can buy so many items by using the donation contribution point. Leaders can add the items by using alliance score.
Represent
Every class have 5 different represent. Those who have better national quiets level they should represent the alliance for better benefits.
Mark
Attacking a marked enemy gives you a might and resistance buff.
Alliance massage
It's a feature to give massage to all members inside or outside alliance.
How to join in an alliance?
Inside Province:- Look for good alliance suited for you join there. When you open an alliance details you will get an join option click on that for join. If alliance is open for auto join then you get in directly. If auto join option is off then you need to wait till R5/R4 review your request and accept you.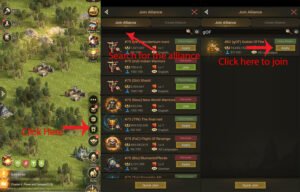 Cross Province:- This helps during season like ROC/EDEN etc. For that you need to search for the alliance then only you can join. Contact leaders before join because unknown request may get rejected.