Pillow rabbit :
Pillow rabbit is a a prop which can be made easily at home.
Its soft, fluffy, big and cute prop.
All the materials would be easily available at home and you can create it quickly.
This prop is specifically designed for the kindergarten children. As it is big, soft and looks cute it is more attractive for these tiny tots.
Parents can easily make it for their toddlers and tell stories using this rabbit at home .
Elder Kids can prepare it by themselves and play with their peers using this pillow rabbit.
For teachers it would be a beneficial prop for their curriculum as well as for any story telling sessions.
Pillow rabbit can also be made in classroom by children in their art activity sessions. The materials used are easily available and cheap so this prop is economically affordable for all schools and children.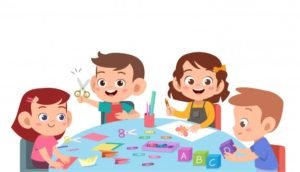 Playgroup teachers can place this rabbit as a toy in their class. By touching and feeling it, children will get a sensorial experience as well as they will use it in pretend play which will boost their social skills.
For 3+ children teachers can talk about the concept of animals, textures, colors, their habitats etc.
Teachers can organise object talk or show and tell sessions where children can use this rabbit as their prop and talk about it.
Thus, this prop in itself provides sensorial experience as well as it enhances 5 developmental domains of child.
Materials used:
Small or big pillow-1
A4 white paper-1
Red Ribbon –
Rubber band-2
Glue stick
Marker
Small top or any cloth
( not compulsory)
Method:
Tie a red ribbon from the middle of the pillow and make ears of the rabbit by tying two fancy rubber band.
Make it wear small top which fits in it. Make the top with cloth available with you in house. Take A4 size white paper.
Draw 2 rabbit ears, cut it and stick it with glue stick on the ears tied with the rubber band. On that same paper draw two circles for eyes, triangle nose and whiskers with marker and stick it with glue stick.
The pillow rabbit is ready.
🌟USES🌟
*These props are easy to make. You can get easily all the materials at home without spending a penny.
*Educators can use these homemade props for online or offline story telling session.
*They can use these easy to make handmade props as teaching aids in their curriculum.
*​These props Can be easily made by children. They can use it for their project work of school or can play with it as a toy.
So waiting for what, let's create THE CREATION …